What are the first steps?
After you make contact, I'll drop you a line back to arrange a short, free chat either on Zoom or over the phone where you can tell me a bit about what's going on and what you hope to get from our work together. It's also a chance for you to ask any questions you may have.
If you'd like to move forward, we can discuss times, locations and everything else for our first meeting.
What's the first session like?
I understand meeting with a counsellor for the first time can sometimes feel daunting so if we're meeting in person I'll have sent through some detailed directions for finding me, including photos of what everything looks like, which buzzer to press when you arrive, what the public transport or parking situation is, and so on. I'll also have sent over some more information about how I work and what our working relationship will look like.
In our first session we'll explore what's brought you to therapy and what preferences you have for our work together. It's an opportunity for me to find out more about what's happening in your world, but just as importantly it's a chance for you to find out if you think we're a good fit. After that first session, if you'd like to continue, we can take it from there.
How much does it cost?
For most clients my fees are between £70 and £80 for each weekly 50-minute session. For couples and relationship therapy, it's £130 for each 75-minute session. I do offer some low-cost sessions for those on low or no income, so if you're interested in those let me know.
My work's unpredictable — what if I can't make a session?
We'll generally plan to meet (or connect online) at the same time each week, but a lot of my clients work in the creative industries and I appreciate that it's not always easy to predict what's going to come up. For that reason I try to offer flexibility where possible.
Where does it happen?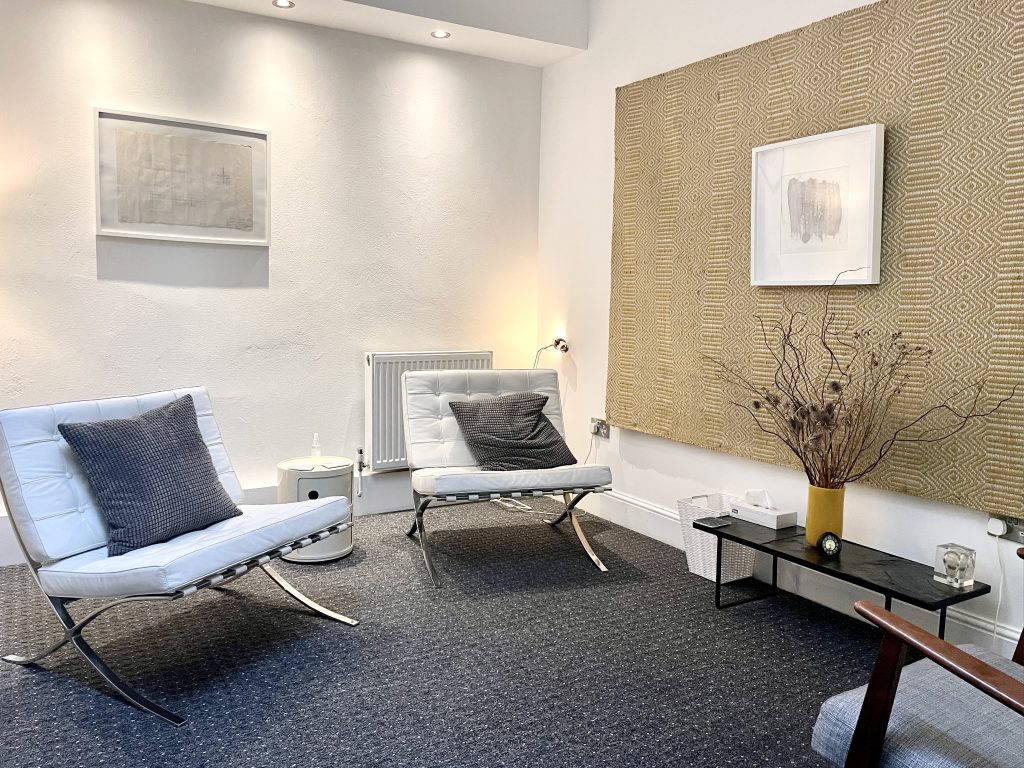 I'm trained and experienced in working both online and in person.
For in person work my Hackney practice is two minutes from Haggerston overground station, and is convenient for clients based in Dalston, Shoreditch and surrounding areas.
It's pretty easy to get to from other locations too — Kings Cross, Canary Wharf, London Bridge, Oxford Circus, Stratford, Walthamstow and Camden are all reachable on public transport within half an hour.
Online sessions generally take place via Zoom, but I'm happy to discuss alternatives if you have a preference for another platform. There are some extra considerations when it comes to online work — one is making sure you're somewhere private and can speak freely. If you're interested in online therapy we can discuss privacy and other points when we're arranging our sessions.
Am I going to be in therapy for years?
I offer both time-limited therapy (where we might agree to work together for a set number of sessions), or open-ended work which can continue until you feel you're ready to stop. We'll discuss what feels right for you when we start working together, but whatever we agree you're in control and you can choose to end our work whenever you like. And if, after that, you feel like you might want to reach out again in the future, that's fine too.
What's your training?
PGDip Integrative Counselling and Coaching (University of East London)
Certificate in Couple and Relationship Therapy, accredited by COSRT at Level 5 (The Grove)
Foundation Certificate in Counselling Skills (WPF Therapy)
Certificate in Clinical Assessment Skills (WPF Therapy)
Diploma in Transformational Coaching (Animas)
My core training, passed with distinction, was accredited by the British Association of Counselling and Psychotherapy (BACP). Prior to graduating I completed hundreds of hours of client work on clinical placement at a low-cost service in Hackney, where I also gained experience in assessment and referrals, and I experienced plenty of my own personal therapy along the way.
During and beyond that I've continued to engage in professional development courses and workshops. These include training in Acceptance and Commitment Therapy (Cardiff University), Motivational Interviewing (Tavistock and Portman) and Advanced Creativity Coaching (CCA), as well as CPD covering issues such as grief, online and telephone counselling skills, perfectionism, trans awareness, domestic abuse and coercive control, and music performance anxiety. I've also received mentor training through the charity Help Musicians, and have taken part in their Co-Pilot mentoring scheme for the last two years.
I'm currently studying towards a diploma in Attachment-Based Psychotherapy, due for completion in 2024.
What are your credentials?
I'm a registered member of the BACP, by whose ethical guidelines I abide, and an accredited registrant of the National Counselling and Psychotherapy Society (NCPS). I'm a registered BAPAM practitioner, and a member of the Music Industry Therapist Collective.
On the coaching side of things I'm also registered at Practitioner level with the European Mentoring and Coaching Council (EMCC). I'm insured by Towergate, have an enhanced DBS check and am registered with the ICO.

Where does the coaching part come in?
For some clients it doesn't!
Counselling is often about making sense of the past to help with the present, while coaching can be more about untangling the present to help with the future. It may be that clarity on what's happening now is all you're after. But if that clarity comes and you wonder what's next, that's when we can look at how coaching might help you move forward. This might, for instance, take the form of supporting you as you plan and put into action any changes you've decided to make in your life.
At any point, as new or existing challenges make themselves known, we can step back into counselling, although I like to think that rather than being a 'step back' this is still taking another step forward.
Why did you become a counsellor?
Before training as a counsellor I spent many years as a music journalist and music industry consultant. (I still do some of that alongside my private practice counselling work.)
One element of all this, and the part I grew to find most personally rewarding, involved working with new and established musicians, preparing them to deal with the media — hearing people's stories and figuring out how they could tell them (or not tell them) on their own terms.
As the full complexity of these artists' internal worlds came into focus, I wondered if some brief counselling skills training might be a good idea. It ended up being rather less brief than I'd intended! As well as opening up a deep interest in counselling and psychotherapy, I found the training to be a life-changing process. Several years later, I'd qualified as a counsellor.
Many of my counselling clients are musicians or people in the music business — there's some more about that here.
How do I know if you're the right therapist for me?
I know from personal experience that starting off with a counsellor or psychotherapist is a big step. I'm also well aware that choosing the right one isn't easy — particularly when we all seem to say the same things on our websites.
With research showing that the client/therapist relationship is central to therapeutic progress, it's important that you feel like you click with whoever you'll be working with.
A good therapist will be honest if they believe you'll find a better match with another professional, and may even try to help you find one. If you'd like any more pointers, or if you think I might be the therapist you'd like to work with, please feel free to get in touch.